www.bishopmikelowry.com/
Bishop Lowry's Blog


www.upperroom.org/
Upper Room Ministries


kingdombuilders.com
How to Pray Scriptures


www.umc.org
United Methodist Church


www.ctcumc.org
Central Texas Conference


Welcome to Campus Drive Community Church
Welcome to the Campus Drive spiritual experience where you will find an active, friendly and fully committed family of followers of Christ.  At Campus we constantly strive to be a vibrant, growing, and nurturing church that changes lives in a holistic manner and reshapes futures for the glory of God's Kingdom.  We invite you to be our guests as we explore the Word of God, grow in truth and knowledge, share His love and grace, and reshape futures for the glory of God's kingdom.

To God be the Glory!
 


THURSDAY NIGHT BIBLE STUDY
Walk through the Bible with us each week, during Thursday Night Bible Study, at Campus Drive Community UMC!

more details...

 
 
 


FOOD GIVEAWAY PROGRAMS

         

Fresh Vegetables - Sponsored by the Tarrant County Food Bank, every 2nd and 4th Tuesday of each month, from 8 am - 12 pm, at the Church of Philadelphia, located at 4716 Wichita St., Fort Worth TX 76119.  

Fresh Food - Sponsored by Tarrant Area Food Bank, every 1st Saturday of each month, from 10 am - 12 pm, at the West Freeway Church of Christ, located at 1400 S Cherry Lane, Fort Worth TX 76108.   Note: You must bring a photo ID and bags or boxes to carry your food.

 
 
 
 
 
 
 


COME AND JOIN US ON FACEBOOK!


GET CONNECTED
... we hope you LIKE US!

 
 
 

           

THE DEPRESSION CONNECTION


       


Campus Drive is partnering with a local source of help for people who have concerns, questions, or needs regarding mental health issues, and to begin counseling groups dealing with depression.   The sessions are held Tuesday evenings at 5:30 pm.   For more information please contact the church office.
more details...

 
 
 
 
 
 
 


LEADERS AND VOLUNTEERS NEEDED

The Church is looking for leadership and volunteers for the following ministries.   Prayer Team Leader, Traveling Ministry, and Youth Sunday School Teacher. The AV Ministry is also seeking voluntneers to assist in media activities.   Please contact the church office for more information.


 
 
 


 


Mission in Action
The Mission Group looking for volunteers to serve the sick and shut-in and provide a caring ministry to the enthusiastic senior citizens at the Immanuel Nursing Center. The team meets at Immanuel Nursing Center on the 2nd Saturday, 1:00 -3:00pm ...


 
 
 
 
 
 
 


Youth Achievement

In order to honor the children for their achievements, all parents are asked to submit their child or children's report cards to the Youth Achievement team. For more information, please contact the church office.  

 
 
 


 



Education Scholarship
The Higher Education Committee is asking that every second Sunday members give $5 (or more if you can) towards the William and Mildred Sims Scholarship fund. This scholarship is designed to assist students who will be enrolling in a college or university......


 
 
 
 
 
 
 


Bring Your Pennies to the Trinity

This fund raising effort is in full swing!   Receptacles are set up for you to bring your loose change and offer it as a gift.
The receptacles will be available through the end of the year.


 
 
 


 


Become a Mentor! 
Are you interested in making a difference by touching the lives of our youth (Elementary or High School) today?  Please contact the church office for more information.


 
 
 
 
 
 
 






CAMPUS DRIVE COMMUNITY CHURCH
A United Methodist Congregation 
Brenda Brooks, Lead Pastor 
OFFICE: (817) 921-LORD




 




To submit requests for articles regarding church ministries, events and announcement click here.


Please direct your problems, comments, or questions about our site to our webmaster at webmaster@campusdrive.org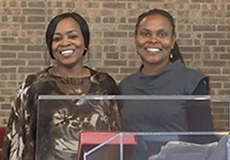 Service Schedules
Sunday Sunday    9:00am
Sunday Worship  10:00am
Thursday Family Night        6:00pm
Thursday Bible Study         6:30pm
Thursday Choir Rehearsal   7:30pm